Activated Charcoal Facial Cleanser
.5 oz. cocoa butter
25 oz. shea butter
3.5 oz. organic liquid castile soap
1 tsp liquid soy lecithin
2 ml rosehip seed oil
15 drops birch tar essential oil
15 drops rose absolute blend
5 drops non-GMO vitamin E
5 drops rosemary extract
1 tsp activated charcoal powder
This is the first of several recipes we've included by Rebecca at Soap Deli News. She's got hundreds (thousands?) of recipes on her site with great images and step by step instructions. 
Please visit her site for the recipe in it's entirity as there are several steps to creating this facial cleanser. 
DIY Beauty Mask: Activated Charcoal
1 tsp coconut activated charcoal
1 tsp raw honey
1 tbsp bentonite clay
1 tbsp aloe vera gel
3 drops lavender essential oil
Krista, suggests using this mask for acne prone sensitive skin. If you have raw manuka honey on hand, swap that for the raw honey to create an even better anti-acne facemask.
ACTIVATED CHARCOAL WITCH HAZEL MASK
1 ½ tsp Activated Charcoal

2-3 tsp of Rose Petal Witch Hazel with Aloe Vera (like this one)

6 drops of Bergamot Essential Oil
Witch hazel oil is another ingredient that balances well with activated charcoal. It's a natural astringent, which means it helps remove excess oil from the skin and shrink pores. All the while, the activated charcoal helping to lift and remove dirt and bacteria that cause acne.
DIY ACTIVATED CHARCOAL & TURMERIC MASK
½ tsp organic plain yogurt

½ tsp organic witch hazel

½ tsp activated charcoal

¼ tsp organic ground turmeric
Scratch Mommy's blog is one of our favorite DIY bloggers. Her charcoal and turmeric mask is just one of countless original, effective and natural recipes she's created. Turmeric is a wonderfully potent spice that can help reduce wrinkles and aging.
DIY ACTIVATED CHARCOAL FACIAL CLEANSER
1 part Powdered Activated Charcoal

1 part Witch hazel

1 part Pure Aloe Vera gel

3 drops Tea Tree Oil
This is yet another extremely easy charcoal mask that is fantastic for acne prone skin. Tea Tree Oil is our favorite essential oil— it's especially great for fighting acne….and by now you must know how we feel about activated charcoal.
Don't overdo the tea tree oil; it's very powerful and can dry out your skin.
Homemade Activated Charcoal Soap Recipes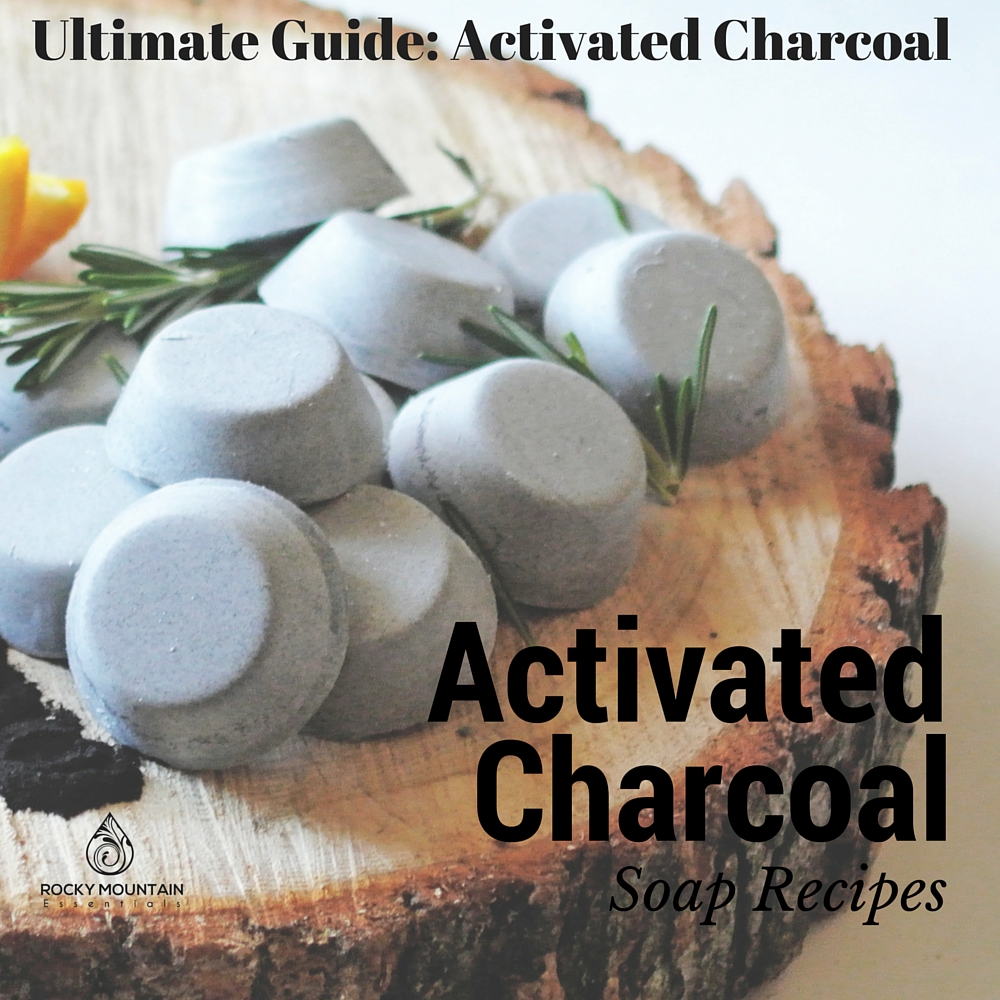 DIY Activated Charcoal soap is another Rocky Mountain Essentials favorite. Most of these recipes can be used as either body soap or facial soap – they're that gentle!
Charcoal is an awesome soap ingredient for fighting breakouts as it gently lifts dirt and bacteria from pores.
Soap making is a little bit more difficult than just adding ingredients to a bowl and stirring them. It's important you read each recipe thoroughly if you plan on making one of them.
For that reason, I'm going to list ingredients but not quantities.
If handled correctly, Lye won't cause any problems. However it's very important you always add Lye to water and not the other way around! Adding water to lye will turn your kitchen into an active volcano. Again, visit the original recipe and read the instructions very carefully!
DIY Activated Charcoal Orange & Rosemary Soap
Organic coconut oil

Organic olive oil

Castor oil

Shea butter

Distilled water (always use distilled water, as tap water can contain impurities)

Lye

Activated charcoal

Organic rosemary essential oil

Organic orange essential oil
These were whipped up by our in-house DIY beauty expert. She used muffin tins as her mold which ended up being extremely cute and since they're so small (and solid!), they're perfect for travel. Alternatively, you can always use a bigger mold if you want a larger bar of soap.
Melt & Pour Activated Charcoal Soap
Sea Buckthron Oil
Patchouli Essential Oil
Lavender Essential Oil
Activated Charcoal Powder
If you want to give soap making a try but don't necessairly want to fool around with lye, this is an excellent alternative. This four ingredient soap is easier to make but still turns out a beautiful bar of soap.
Homemade Activated Charcoal Facial Soap
This recipe comes from the queen of natural DIY products: Katie @ Wellness Mama.
She adds bentonite clay to her soap which is an awesome ingredient to pair up with activated charcoal.
Like charcoal, bentonite clay has the ability to pull bacteria from the surface of your skin to fight breakouts.
Filtered water

Lye

Coconut Oil

Olive Oil

Castor Oil

Activated charcoal powder

Bentonite clay powder

Essential oil of choice
DIY Activated Charcoal Soap With Algae and Tea Tree Oil
Rebecca wins the award for most beautifully packaged. Seriously, her labels are gorgeous. If you haven't checked them out, you should! She's a total inspiration.
Pomace olive oil

Coconut oil

Rice bran oil

Grape seed oil

Jojoba oil

Evening primrose oil

Shea butter

Olive squalane oil

Carnauba/candelilla wax

Distilled water

Lye/sodium hydroxide

Activated charcoal powder

Spirulina powder

Red Moroccan clay powder

Rosehips powder

Chamomile flower powder

Lavender essential oil

Tea tree oil
This soap is packed with nourishing ingredients for your skin. It's purifying without being drying, leaving your skin moisturized and clean. If you're prone to breakouts or looking for a daily facial soap, this one is perfect for you.
Where to Buy Activated Charcoal Soap
If you're not the DIY type, here are some excellent places you can buy activated charcoal soap.
Soap Walla
Soap Walla is a Brooklyn-based Skincare Company that produces a terrific bar of activated charcoal soap.
Craftsman Soap Co.
Craftsman Soap Co has a few versions of activated charcoal soap. Our household loves the "rough stuff bar soap" which is an exfoliating soap bar that does an amazing job to help soften grizzled hands. In the summer time, when we're almost always barefoot we use it to exfoliate and moisturize to prevent cracked heels.
If your job or daily routine leaves you with dry, rough hands, you have to try the rough stuff bar soap.
They also carry a gentler charcoal bar which can also be used as a face wash.
Little Seed Farm
The raw goat's milk makes Little Seed Farm so unique— it's especially fantastic for dry or irritated skin. As you may have guessed, Little Seed Farm sources their goat milk from their own goats.
It's an adorable farm (and family!) and they've even named their goats! I'm partial to Willow.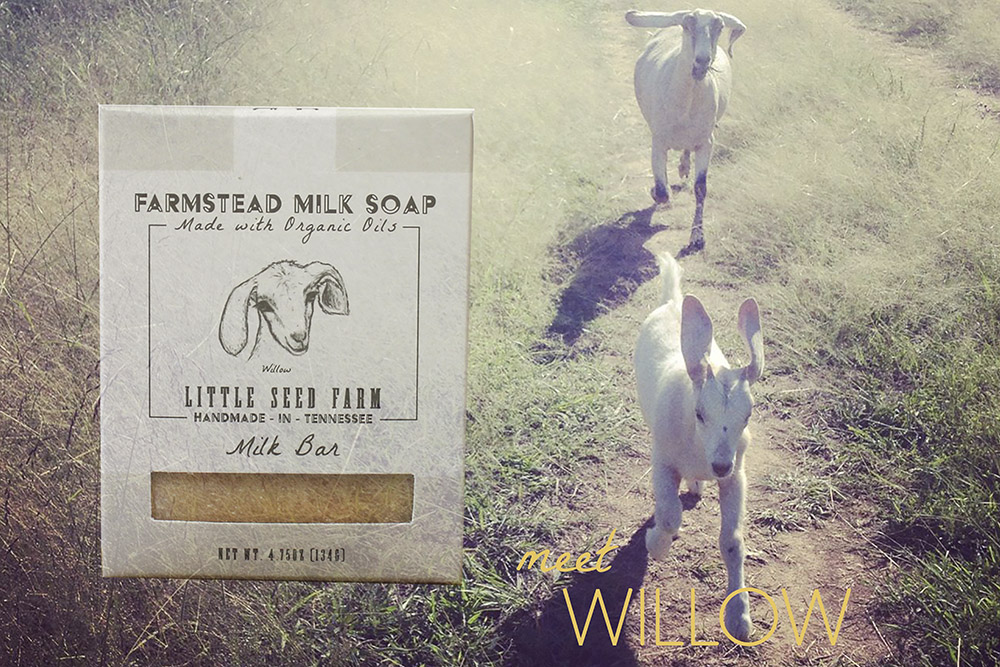 They sell a range of soaps including their activated charcoal goat milk soap.